Captains Welcome
The Club, Lady and Seniors Captains Welcome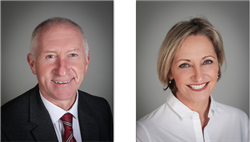 Hello and welcome to the Tynemouth Golf Club website.
On behalf of everyone at Tynemouth Golf Club we extend a very warm welcome to both our members and visitors alike.
It is our privilege and honor to be Captains for the year 2019/20 and to play our full part in ensuring all enjoy the excellent facilities both playing and socially available at our wonderful club.
The face of golf is changing throughout the world and in the UK. New rules and innovations came into effect in 2019 with the aim of making the game more enjoyable for all. Tynemouth Golf Club is at the forefront of these changes and the aim of the "General Committee" and all of us is to ensure that Golf becomes more INCLUSIVE and INNOVATIVE.
Innovations such as Super 6, Speed Golf, Mixed Competitions, easier playing/fun options are to be encouraged and with the help and support of all members from the most Senior to most Junior we feel sure that the Club will move forward with success.
TGC is one of the most attractive "Parkland Courses" in the North East. This par 70,18 hole course is situated minutes from the beautiful village of Tynemouth, recently voted one of the best villages to visit in the country. The course offers a very fair challenge to all levels of golfer and the course record of 64 shows that to any golfer it is not as simple as it first appears.
A steady planned level of improvements at the club are ensuring that the the course and its environs will continue to remain in good condition at all times of the year. Indeed we are able to remain on our greens throughout the winter save only for frost.
Membership is thriving with good golf at every level from new starters, juniors, low handicap to senior golfers. We are very well represented at County and Regional level in leagues from Junior to Senior.
Our Professional John McKenna, has this year overseen our first ever adult "Academy" for beginners, which was the brainchild of our club manager Paul Whittaker, and this has proved a great success. We extend our thanks to the members who acted as mentors and enthusiastically supported the initiative. The Academy will continue to develop and encourage new golfers to enjoy the game and our Club.
Best Regards and enjoy your Golf.
George Harrison Club Captain
Jane Henderson Ladies section Captain
Tony Sarginson Seniors Section Captain.